Med Rudolph den II i Washington
By
Leif Magnus Eriksson
| september 27th, 2010 | Category:
Arcimboldo
,
Konst
,
Måleri
,
Washington DC
|
1 Comment »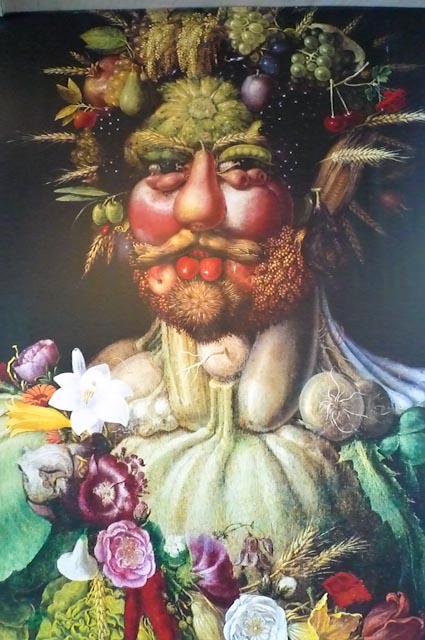 Porträttet av Rudolph den II är flera meter högt och täcker upp en mycket stor del av fasaden vid ingången till den Östra Flygeln av The National Gallery of Art i Washington.
Det handlar om den kanske mest kända målningen i svensk ägo, Giuseppe Arcimboldos porträtt föreställande Habsburgkejsaren Rudolph den II. Vanligtvis finns den på Skoklosters Slott. Den är också en av Sveriges mest beresta målningar. Just nu visas den på National Gallery i Washington DC. För några månader var den på besök i Japan.
Det rör sig inte om ett porträtt i vanlig mening, Istället har Arcimboldo använt sig av frukter, sädesax, blommor och grönsaker som har sammanfogats så att en porträttlikhet uppstår. Det sägs att Rudolph har blivit avbildad som Vertumnus, den gud som i romersk mytologi förknipps med årstider, växtlighet, trädgårdar och fruktträd.
Porträttet målades i Milano omkring 1590, ca tre år innan Arcimnoldos död.
Ungefär trettio år tidigare hade han lämnat Italien för en position i Wien som porträttmålare hos den Kejsar Maximilian den II. När denne dör får Arcimboldo samma position hos hans efterträdare Rudolph den II och följer även med när denne flyttar sitt hov till Prag.
Redan tidigt under sin karriär, målar han flera sammansatta allegoriska fysionomier föreställande de fyra årstiderna och de fyra elementen. De flesta av de som bevarats finns i dag i Kunsthistorisches Museum i Wien. Så porträttet av Rudolph/Vertumnus har flera föregångare.
Utställningen är mycket ambitiöst upplagd.
Det är en helt unik känsla att kunna gå runt på en utställning och vid samma tillfälle kunna beskåda målningar som vanligtvis finns på så olika platser som Skoklosters Slott, Nationalmuseum i Stockholm och Kunsthistorisches Museum i Wien.
Men som ändå så klart och logiskt hör samman.
Därtill förekommer grafik av konstnärer som Leonardo da Vinci och Albrecht Dürer som illustrerar ett liknande intresse för det absurda och groteska hos Arcimboldos  föregångare och inspiratörer.
Ett annat unikt konstverk som visas i anslutning till utställningen är den tredimensionella version av Arcimboldos Vintern, som har gjorts av konstnären och filmaren Philip Haas. Här har vintern återgivits skulpturellt med "naturalistisk" noggrannhet men i övermänsklig storlek.
Arcimboldo blev under en lång period nästan bortglömd, men återupptäcktes på 1900-talet av surrealister som André Breton, som proklamerade honom som en föregångare och inspiratör. En presurrealist i likhet med Hieronymus Bosch.
Den lokal där utställningen visas är The East Wing, den östra flygeln till The National Gallery of Art. Här rör det sig om en vacker modernistisk byggnad som bara den är värd ett besök. The East Wing är ett av den kinesisk-amerikanske arkitekten I M Peis främsta mästerverk. Pei är också arkitekten bakom glaspyramiden över entrén till Louvremuséet i Paris.
Den stora hall från vilken man går in i den utställningslokal där Arcimboldos verk visas rymmer verk som en gående man av Alberto Giacometti och en mobil av Alexander Calder.
Samtidigt som Arcimboldoutställningen visas även en utställning med verk av Edvard Munch.
För den agrarhistoriskt intresserade kan det vara av intresse att lägga märke till att vid Rudolphs/Vertumnus öra förekommer en avbildning av en majskolv. Redan tidigare, på det allegoriska porträttet Våren, målat i början av 1570-talet, förekommer det också en majskolv.
Majsen kommer från centralamerika och började odlas i Europa vid mitten av 1530-talet. Arcimboldo hade alltså ganska tidigt en god kännedom om detta exotiska sädesslag.
Potatisen, som kommer från det andinsska höglandet i våra dagars Peru, var ännu inte känd bland européer i gemen. Det skulle dröja fram mot 1700-talet innan den började att odlas som föda.